If you mention that you're feeling stressed out, most people will express concern and ask if you're okay. If you add that you're stressed out because you're planning a wedding, you'll likely get a knowing "Ahhh" and a nod of the head.
In other words, it's no secret that wedding planning and stress are two notoriously chummy peas in the same cozy pod. It doesn't have to be that way, though. Despite all of the guest list decisions, seating arrangements, food choices, and dress alterations, you can still find and maintain peace of mind throughout the period leading up to your wedding. Here are a few common methods and activities to help you do so.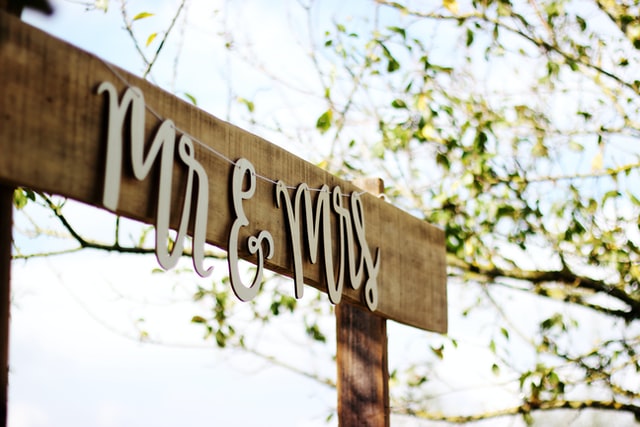 1.Schedule Time for the Basics
The lead-up to a wedding is infamously busy. Wedding planning must be crammed into a schedule that, like as not, was already filled with work, school, or personal activities that you can't simply leave unattended for the next few months.
While it may feel like you already have little-to-no time to spare, this lack of time makes scheduling basic self-care activities that much more important. Now, just to be clear, this isn't referring to finding time to go hang out on a Friday night or get a massage. There's nothing wrong with fun activities like these, but the truth is, as you're planning your wedding, you may not have as much time to grab a drink with a friend or pamper yourself regularly.
However, that doesn't change the fact that your body and your mind have basic, rudimentary self-care needs that should still be tended to. As you schedule out your personal, work, and wedding responsibilities, make sure to also include some time to:
Monitor your diet

: Are you eating regularly or are you skipping meals? Are you taking the time to enjoy the food preparation process or are you opting for shallow, open-and-go junk food?

Size up your sleep

: The average adult should

get around 7 to 9 hours of sleep

every night. Aim to hit that minimum, at the least.

Energize with exercise

: Exercise isn't just good for your health, it also relieves stress. Make sure to get regular exercise, whether you're going for a quick walk, hitting up the gym, or doing a YouTube training video each morning.

Care for your mind

: Mental health is crucial during wedding planning. Make sure to manage expectations, plan, and take steps — like those listed above — to keep that stress in check.
Caring for the basics is the number one best way that you can maintain peace of mind and a healthy body as you prepare for your big day.
2. Learn to Stop and Slow Down for a Minute
Even if you take good care of yourself, you're still going to have moments when you feel overwhelmed, stressed out, and generally out of control. Whether you're in the middle of a family feud about who should be cut from the wedding list, you're picking out flowers with an overly controlling family member, or you're simply trying to tend to your relationship with your future spouse, there are plenty of things that can create tensions every day.
When this happens, you can calm down and restore some tranquility by:
Having de-stressing tools ready to hand can be the perfect way to manage stress and keep anxiety at bay.
3. Address Finances Early
Weddings are an expensive activity to plan at all times. It doesn't matter if you're having a quiet country wedding in the middle of nowhere or a six-figure bash on Long Island, chances are you're going to be making a lot of expensive decisions in the next few weeks and months.
If you want to help maintain the peace as you do so, do your best to plan financial elements well in advance of major decision deadlines. For instance, set a wedding budget as early as possible. You can also look at different, more affordable options for various things, such as an outdoor tent for the venue or tungsten wedding bands.
Getting out ahead of the financial decisions is a good way to have time to make sound, thoughtful judgments that meet your desires while staying within your budget.
4. Embrace Who You Are
Finally, it's important to actively resist the temptation to begin over-analyzing yourself and your partner in the lead-up to the wedding. This can be difficult, as the thought of being "on display" in a gown or a tux can be intimidating.
And the truth is, there's nothing wrong with trying to lose a few pounds or toning some muscle. However, as soon as your physical appearance becomes a focal point, it can immediately add an unhealthy dimension to your mental state.
Instead, take time to mentally embrace both you and your spouse's bodies as they are. This mentality can help you shed any false mindsets or unrealistic expectations as you both look forward to the love-filled days ahead.
Peacefully Prepping for Your Wedding
There's no doubt that planning a wedding can be stressful. However, you don't have to let the natural stress of the planning process sap your mental strength and peace of mind.
Instead, take steps to maintain peace and tranquility as you prepare for your special day. If you can do this, you'll find that it isn't just a process that you must survive. You'll likely find it enjoyable as you go along, as well.
Author Bio
Ainsley Lawrence is a freelance writer that lives in the Northwest region of the United States. She has a particular interest in covering topics related to good health, balanced life, and better living through technology. When not writing, her free time is spent reading and researching to learn more about her cultural and environmental surroundings. Find her on Twitter.